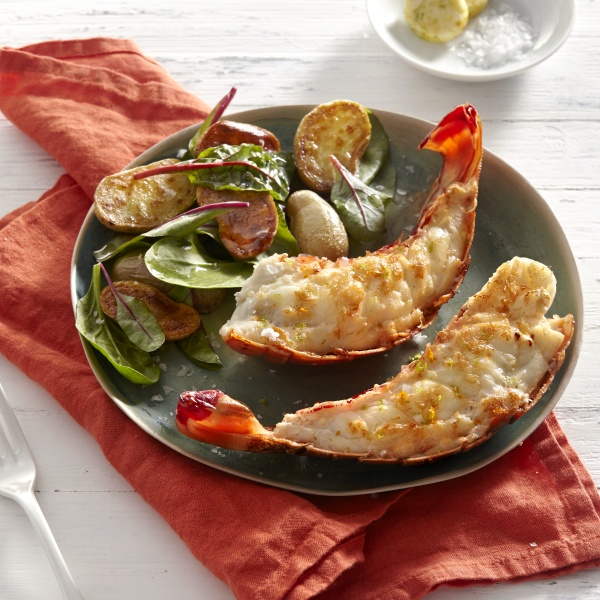 Lobsters roasted in citrus butter
For 4 people:
4 Lobster tails
1 clove of garlic
1 lime
1 yellow lemon                                                                                                                             1 orange                                                                                                                                     10gr of Parmesan cheese                                                                                                             60gr of soft butter                                                                                                                 400gr of Grenaille potatoes                                                                                                         Olive oil, salt, pepper
• The day before, let the lobster tails defrost for 12 hours in the refrigerator.
• Divide the cut potatoes in half in a large dish and mix them with the olive oil, crushed garlic and salt. Cook for 35 minutes, while stirring during cooking. Mix the soft butter with salt, pepper, parmesan and the chopped peel of the citrus fruits. Roll into a sausage in plastic wrap and place in the freezer.
• When the potatoes are cooked, turn on the oven grill.
• Cut the lobster tails in half. Place them, shell side up, on top of the potatoes and bake for 3 minutes.
• Turn the lobsters over, spread 3/4 of the flavoured butter cut into slices on the flesh and cook for 5 minutes.
• Serve with the rest of the butter and a salad.
Bon appétit !