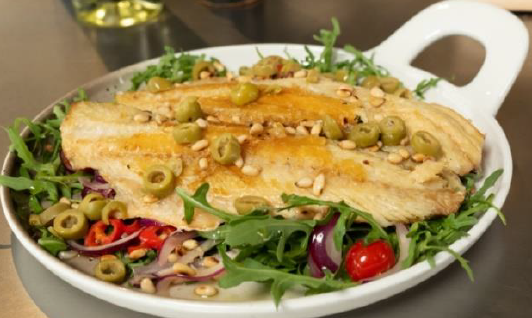 Salade norvégienne de Makayabu/ Norwegian Makayabu salad
   Pour 4 personnes / For 4 people:
1 Makayabu entier pré-trempé /1 whole pre-soaked Makayabu (salted saithe)
50 ml d'huile neutre pour friture/ 50 ml neutral oil for frying
50 g de salade roquette / 50 grams rocket salad
15 cl de vin blanc/ 3 cloves of garlic
15 cl de crème fraiche liquide/ 150 grams small, sweet tomatoes
1 oignon rouge/1 red onion                                                                                                      1 piment rouge/ 1 red chili 
70 g d'olives vertes/ 70 grams green olives
40 g de pignons de pin/ 40 grams pine nuts
1 citron/ 1 lemon
Sel/ Salt                                                                                     
•  Pour la salade, coupez l'oignon rouge dans le sens de la longueur et le piment. Faites chauffer une sauteuse et ajoutez l'huile d'olive. For the salad, cut red onion lengthwise and the chili. Heat a sauté pan and add the olive oil
• Faire revenir doucement l'oignon rouge, les petites tomates et le piment. Assaisonner avec du sel. Gently sauté red onion, small tomatoes, and chili. Season with salt.
• Lavez la salade de roquette et disposez-la sur une grande assiette. Faites griller les pignons à feu doux jusqu'à ce qu'ils soient dorés et ajoutez les légumes sautés.  Wash the rocket salad and lay on a big plate. Toast the pine nuts over low heat until golden and add the sauté vegetables. 
• Déposez le poisson frit sur le dessus. Garnissez la salade d'olives vertes et de pignons de pin. Assaisonnez avec de l'huile d'olive et du jus de citron. Put the fried fish on top. Top the salad with green olives and pine nuts. Finish with olive oil and lemon juice.
Bon appétit !
Merci à Norges pour son incroyable recette!